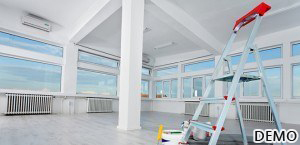 Whether your company is in need of more space for expansion, or need an internal and external facelift to boost business….we can help you.
With the ever changing economic times of today, things are constantly becoming different at a blistering pace, and it's something that's a challenge to keep up with. Renovating your commercial facility is a significant task.With experience, and an extensive reference list, allow us to handle all your remodeling and renovation needs.
We offer a broad range of commercial renovation construction services specifically tailored to meet the unique requirements of each client's project.Breathe new life into that old office building with commercial renovation services.
We can do everything from structural repairs to aesthetic touches. Our commercial renovations services include:
Office remodeling
Store remodeling
Restaurant remodeling
Cabinets/millwork and countertops
Interior/Exterior finishing
Painting/Drywall
Electrical & plumbing
Cabinetry
Carpet, hardwood, and tile floor installation
Concrete restoration
Energy efficiency upgrades
Lighting retrofits
We cover every last detail before any construction begins, that includes:
Layout of your building.
Materials used during the renovation project.
Budget of the renovation process.
Overall design and appearance of the final product.
 If you are interested in upgrading or adding on to your office or business location, We are happy to take it on any commercial renovation projects you have.
Contact us today on (228) 832-9623, to discuss all requirements for your commercial renovations project. Our experts are happy to assist you with advise, planning and a free estimate.